Rates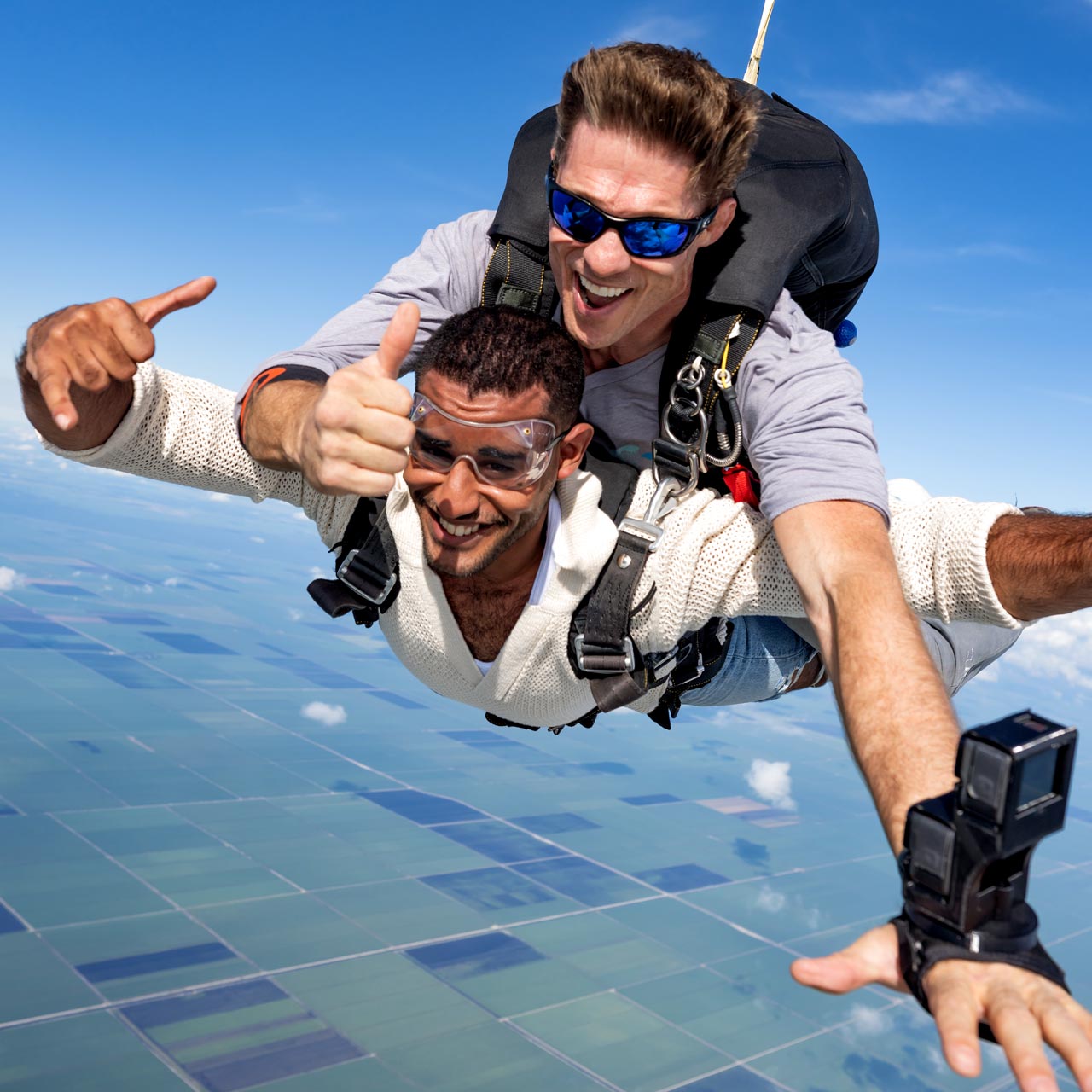 Tandem Jump

Credit Card $219 - Cash $199
Groups of 4 or more

Credit Card $209 each - Cash $189
Groups of 8 or more

Credit Card $199 each - Cash $179
Video of Your Jump

Credit Card $119 - Cash $99
You MUST be at least 18 Years old to make a Tandem Skydive at Skydive Palm Beach. Everyone must bring a valid picture ID regardless of age.Certain Weight Restrictions apply. We charge $1 extra per pound over 200lbs.
Facts And Questions
How safe is Tandem Skydiving at Skydive Palm Beach?
Skydive Palm Beach has an impeccable safety record. We use only state of the art equipment. Our staff members are United States Parachute Association (USPA) certified, have many years of experience in the sport and are highly trained. (You may be in greater danger driving your car).
What does freefalling feel like?
Freefalling is not the 'roller coaster drop' feeling most people expect it would be. It is a comfortable sensation of floating or flying. When you jump out of an airplane, it doesn't feel like a 'Height' but rather an 'Altitude'. Even people who are afraid of heights enjoy Skydiving because you are so high above the earth, that you are very much detached from the ground, just like when flying in an airliner. If you are not afraid when you look out an airliner's window, you'll do OK on your Skydive as far as your 'fear of heights' is concerned..
What should I wear when Skydiving?
Dress with comfortable clothing such as shorts, T-shirts, sweaters, jeans, and sneakers, depending on the weather. The temperature at altitude is about 20 degrees cooler than on the ground. No sandals or flip-flops please. Glasses or contact lenses are OK, we will provide goggles that work for both.
How much in advance do I have to schedule a Skydive?
We recommend to schedule a tandem skydive a week in advance. Depending on how busy we are, it is possible to make an appointment a day or two prior to your jump. Sometimes you are able to jump the same day you call.
Can I pre-pay for my Tandem Skydive at Skydive Palm Beach?
Yes, please use the 'BuyOnline' Option at the top of this page, or if you have a Google account and would like to use GoogleCheckout, you can pay for your Skydive right here.
Why choose Skydive Palm Beach to make your Tandem Skydive?
Skydive Palm Beach specializes in Tandem Skydives. This is all we do. When you go to a doctor, would you choose a specialist or would you go to a 'Jack of all Trades'? Other providers also do intermediate training, sell parachute equipment, T-Shirts and sometimes even sandwiches. All we do is Tandem Skydives - you decide. Additionally, why would you jump anywhere else in South Florida, when this amazing location is available for your first jump?
How about weather conditions?
Skydiving is a weather sensitive sport. We can only jump if conditions are acceptable, i.e. cloud clearance, no rain, tolerable winds. Be advised that weather can be different within a few miles distance. Please call if you are in question of the weather on your reservation date. We try to keep you informed about the weather if you call. Weather forecasts are not always correct.
How old do I have to be to make a Tandem Skydive?
Unfortunately, you must be at least 18 years old to legally jump in the state of Florida. There are no exceptions, and we cannot take parental-signed consents. Be prepared to show I.D.
How long does the training take?
The training takes less than half an hour of preparation followed by boarding the aircraft with your instructors. The time it takes to jump also depends on the size of the group: we will give you a more accurate time frame when you call. We always try hard to get you up in the air at your schedules appointment time, but please be patient, if on rare occasion we are delayed due to unforseen circumstances like weather.
Are your Instructors members of the United States Parachute Association?
Yes, our instructors are members of the United States Parachute Association. This is important because USPA Members have pledged that they will follow the Basic Safety Recommendations (BSRs) set forth by that organization. Tandem Instructors that will not commit to USPA's BSRs are not necessarily unsafe but they are refusing to pledge that they will follow the BSRs and should be avoided.
Is there a weight limit to skydive?
Our weight limit is 240 pounds which is the absolute maximum. Anybody over that limit will be refused. We also reserve the right to turn away people who have a very high weight to height ratio. Over 200 lbs you have to be in EXCELLENT physical condition. If you are over 200 lbs and you have any questions, please call before booking your jump. We charge $1 extra per pound over 200 lbs, just because it's more work for our instructors to jump with someone of that weight compared to someone weighing 120lbs.
Can I bring along spectators when I make my Tandem Skydive?
Yes, by all means! Skydive Palm Beach has a wonderful landing and spectator area and we want you to share this wonderful experience with your friends and family.
Buy Now
Gold Option
Our Gold Option package includes a Tandem Skydive + a video of your Jump!
Silver Option
Our Silver Option Includes 1 Tandem Jump!
Blue Option
Our Blue Option is Video Only