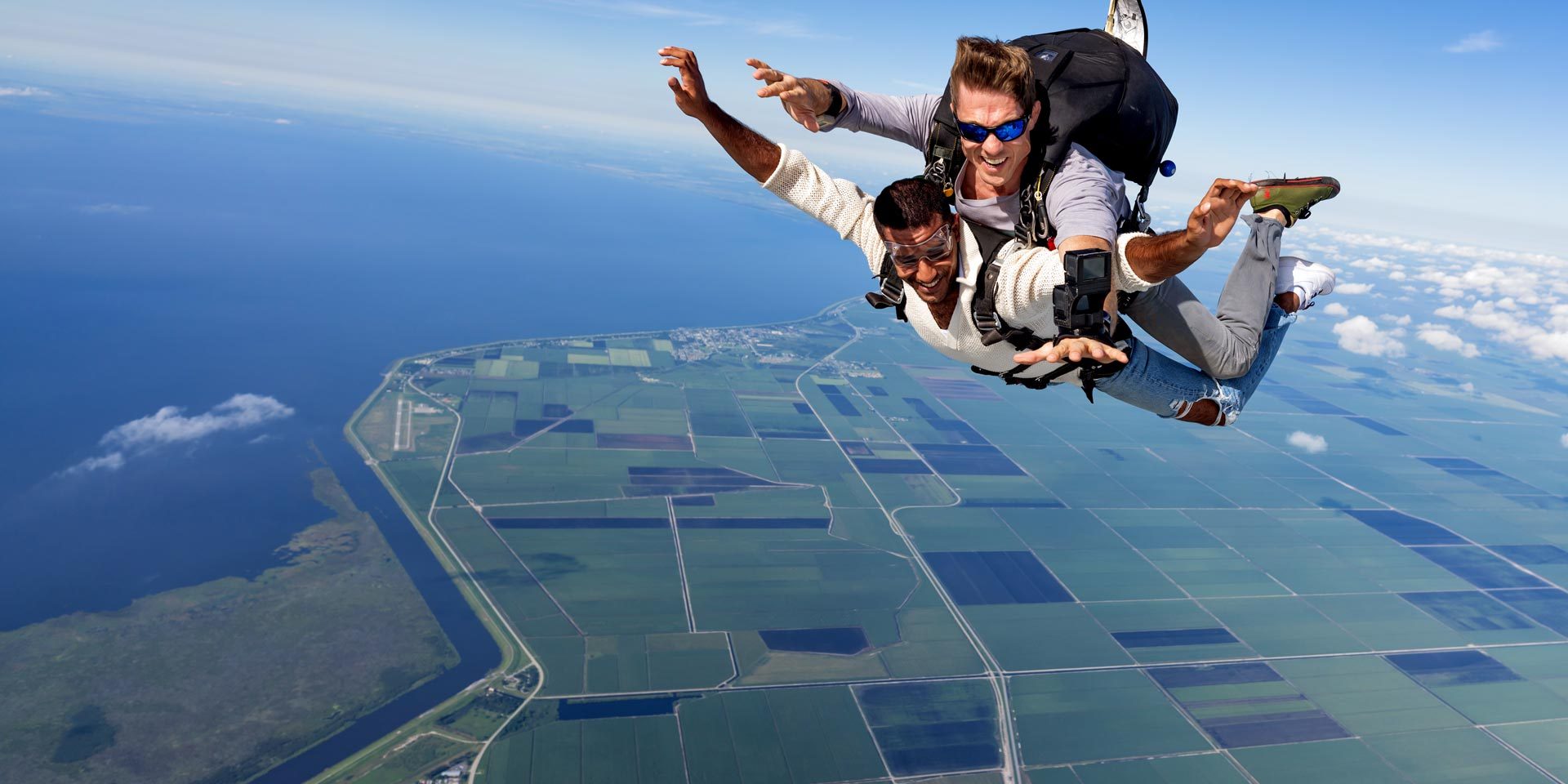 Palm Beach
Tandem Skydiving Rates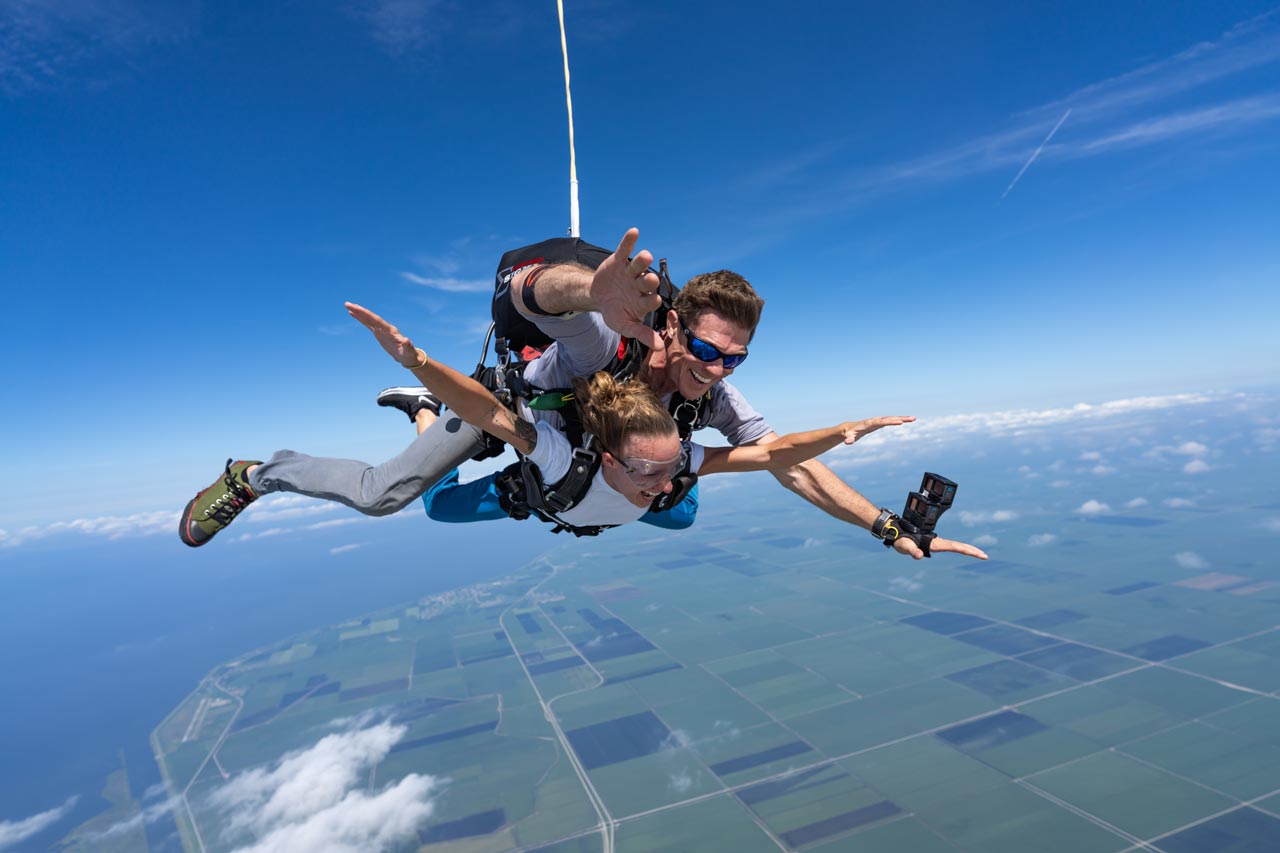 #1 Choice for Skydiving South Florida
Welcome To Skydive Palm Beach!
Skydive Palm Beach is the premier destination for tandem skydiving in South Florida! Our instructors are experienced and professional, our gear and equipment is top of the line, and our views of Lake Okeechobee are second-to-none. Join us for the adventure of a lifetime!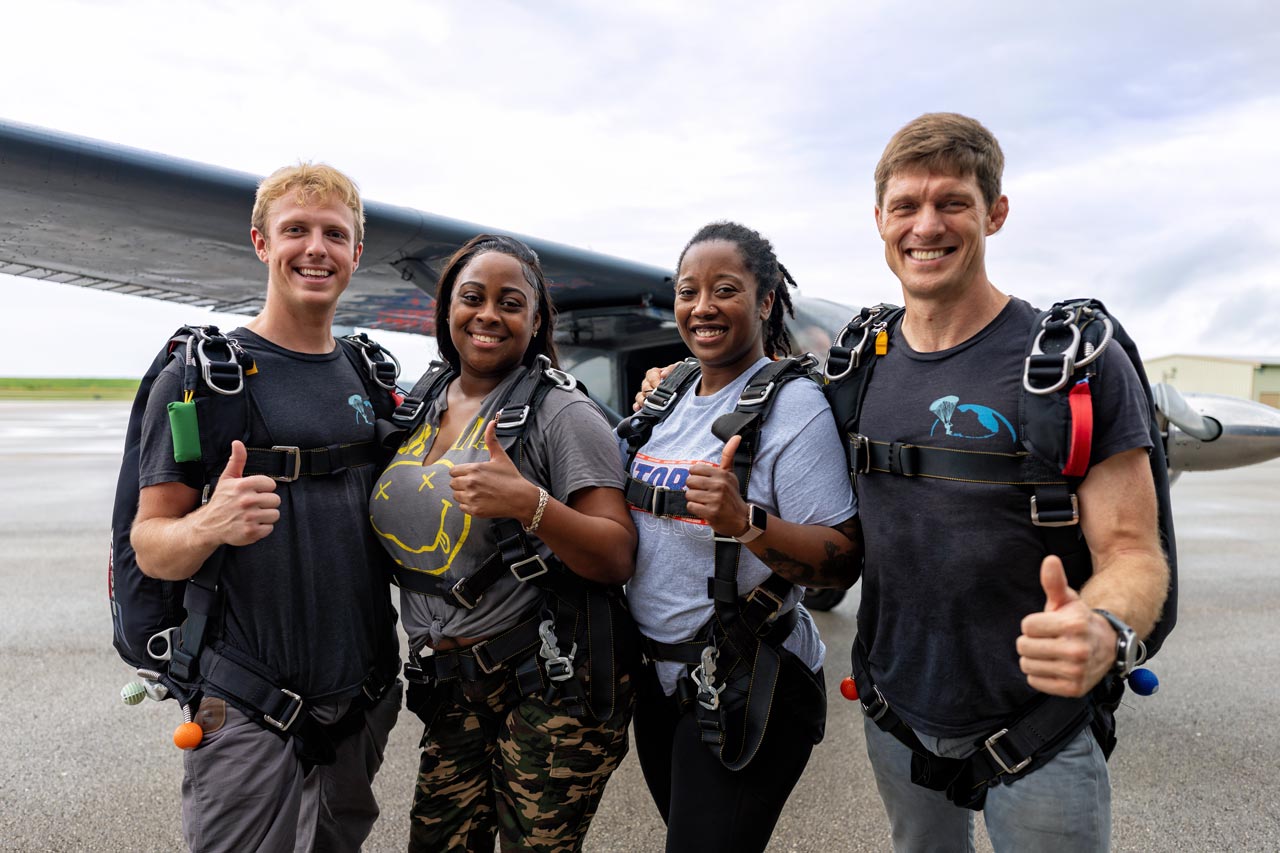 Focused On Safety & Experience
Why Skydive Palm Beach?
Located only an hour from West Palm Beach, Skydive Palm Beach is the closest skydiving dropzone to Florida's East Coast! We are focused on the highest standards of professionalism, skydiving safety and customer service, so you can just focus on having fun! It's no wonder we're the top choice for skydiving West Palm Beach and Fort Lauderdale.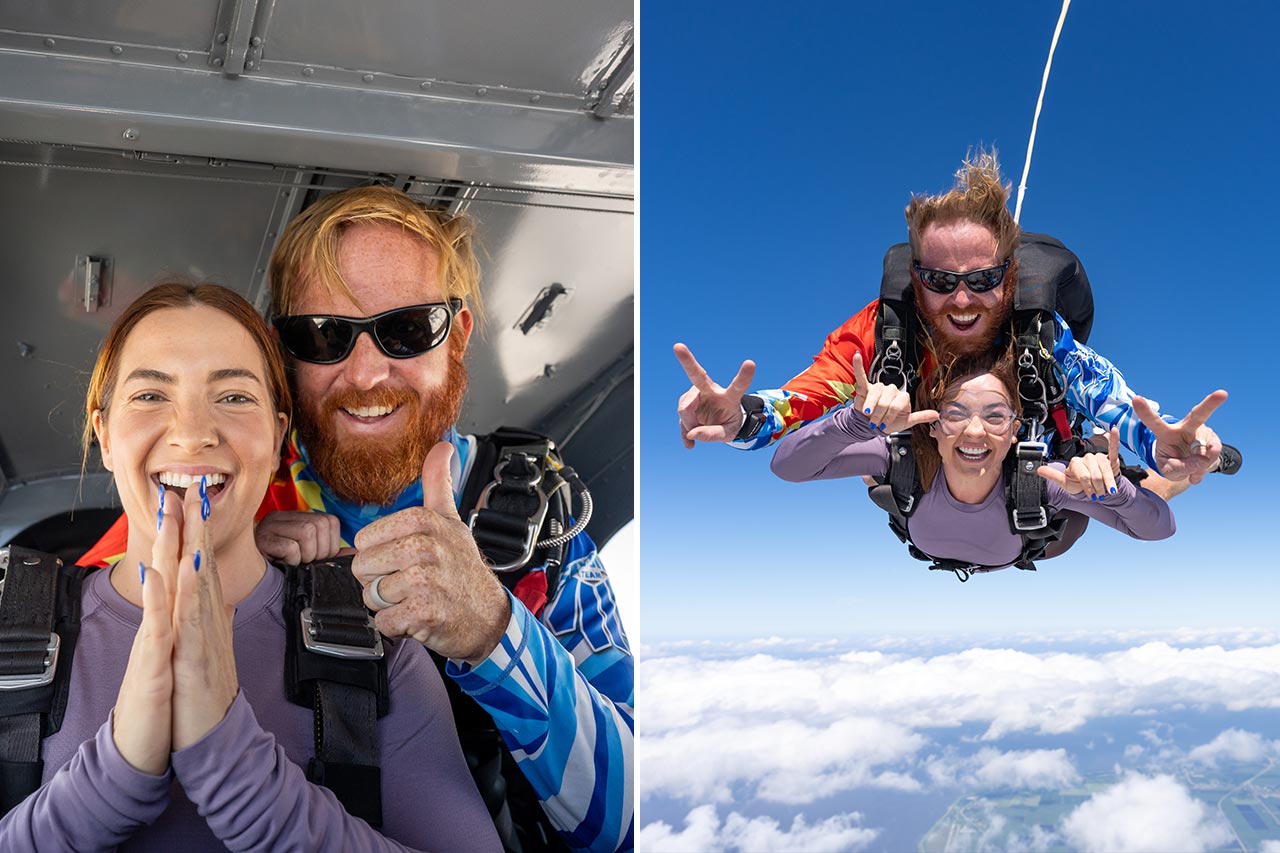 What To Expect: First-Time Skydiving
Tandem skydiving is a no-experience necessary adventure! We'll teach you everything you need to know when you get here. You'll soar over glittering Lake Okeechobee, freefall for 40 seconds at 120 mph, and then float under parachute back to where you started to celebrate with friends and family! It's pure bliss …
Team Palm Beach
Who We Are
Get to know the friendly faces of Skydive Palm Beach and check out their advice for first time skydivers!
These guys helped make my first skydive jump amazing from start to finish! I went with my husband and our best friend on Valentine's Day! The crew was so helpful and chill! They captured some incredible pictures that I'll have forever! I recommend this place to everyone!
Molly Crow — Google
Frequently Asked Questions
Is there a minimum age to skydive?
You must be at least 18 years old to skydive at dropzones that are members of the United States Parachute Association (USPA). Be sure to bring your valid, government-issued, photo ID with you to the dropzone. Permission from a parent or guardian is not acceptable in lieu of personal identification.
There is no upper age limit!
Is there a skydiving weight limit?
For safety reasons, you cannot weigh more than 240 lbs to jump at Skydive Palm Beach. Please note that there is a $1 per pound surcharge over 200 lbs.
Do I need to book in advance?
Is there a fee to reschedule?
It's free to reschedule as many times as you like as long as you give us 24 hours notice.
Can I get photos or video of my skydive?
Our professional tandem instructors capture every moment of your skydive from a camera mounted on their wrist. You can purchase your high-definition video and 50+ crystal-clear photos before your jump or after you view it when you land.
We can put everything right on your phone, ready for you to share with friends, family, and social media! Don't forget to tag us on Facebook and Instagram @skydivepalmbeach.
Where will I land? Will my friends and family be able to see me?
You will land in the grass right beside the runway where you took off from at the Palm Beach County Glades Airport. Your support crew will have an unobscured view of your landing, and we'll even take them out to the field to celebrate with you!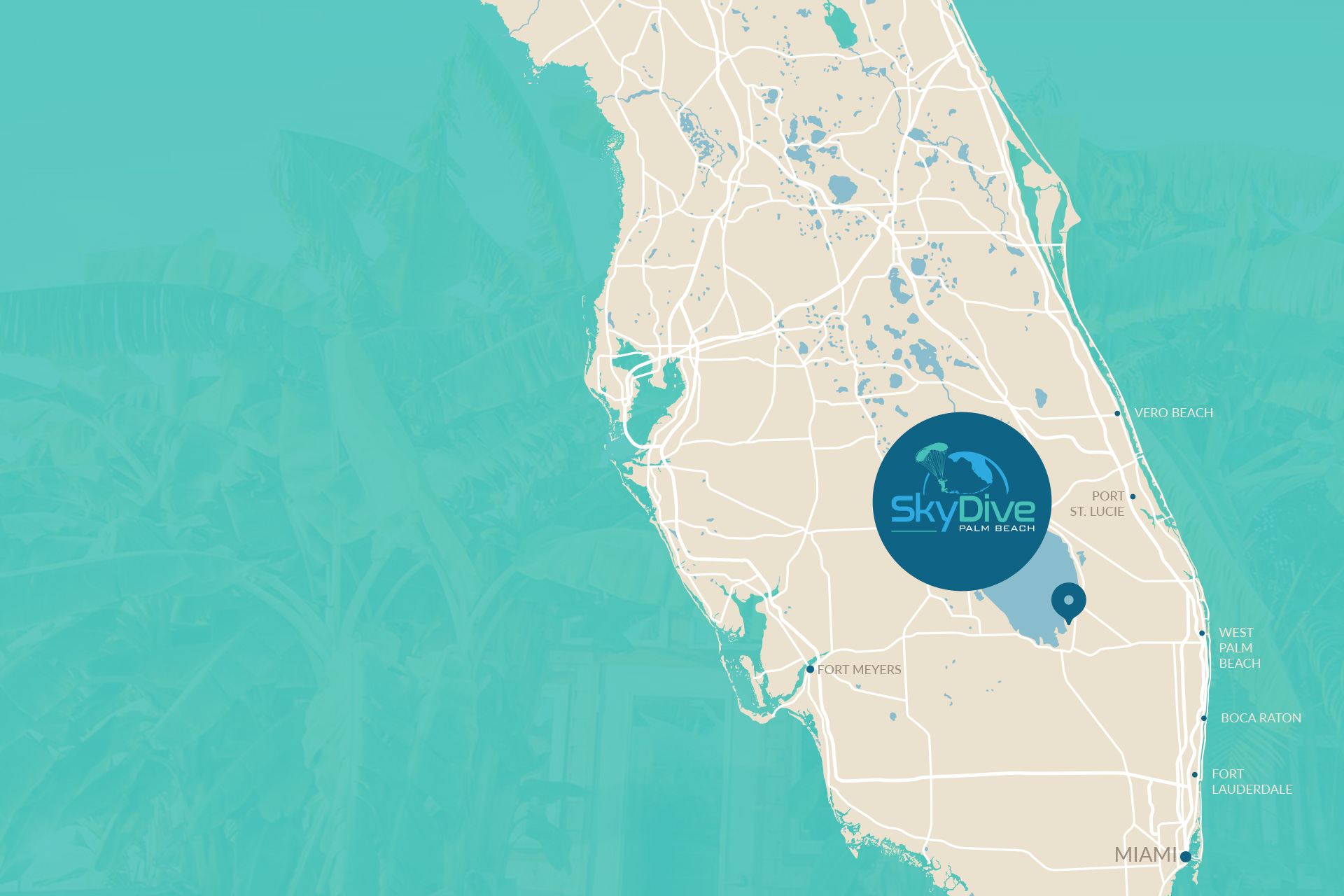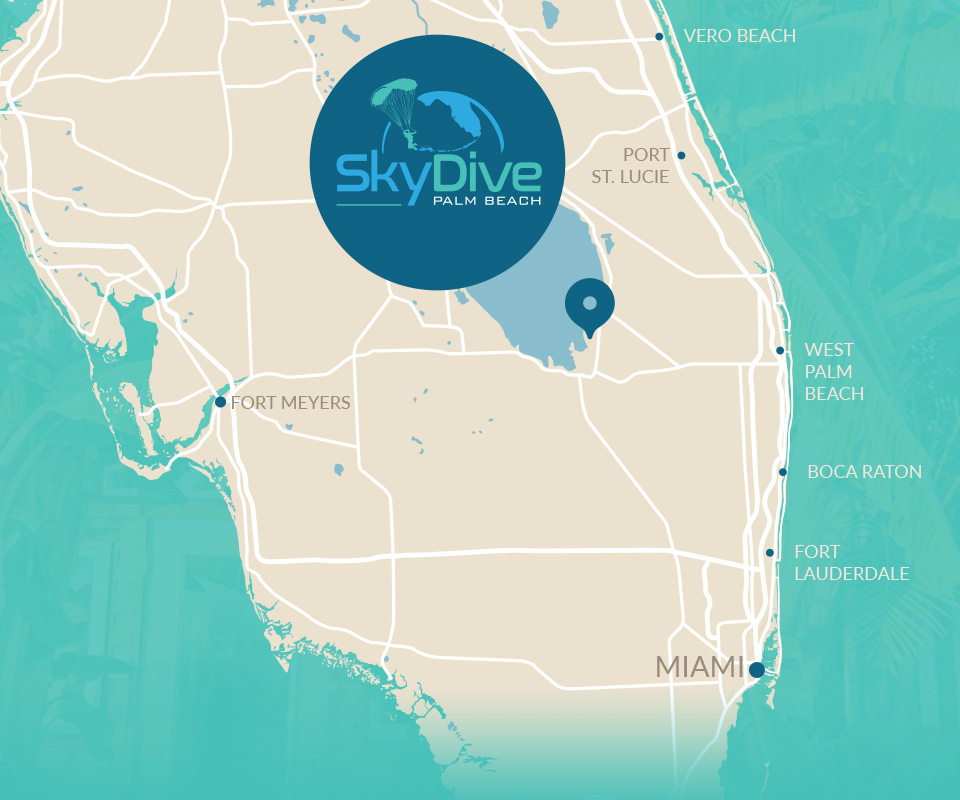 Our Dropzone Location
Skydive Palm Beach is in Pahokee, on the shore of beautiful Lake Okeechobee. We're an easy hour or so drive from West Palm Beach, Fort Lauderdale, Port St. Lucie, and Boca Raton. You can get to us from Miami, Vero Beach and Fort Myers in less than two hours!
West Palm Beach
45 mintues
Boca Raton
1 hour 15 mins
Vero Beach
1 hour 40 mins