Tandem Skydiving
Skydiving Fort Lauderdale
Take The Leap Of A Lifetime!
Tandem skydiving is epic. It's an exhilarating, awe-inspiring, no holds barred – and no experience necessary – opportunity to spread your wings and fly!
If you're ready to experience one of life's greatest adventures, you've landed in the right place! Located on the shores of beautiful Lake Okeechobee, Skydive Palm Beach is the premier destination for tandem skydiving in Fort Lauderdale, West Palm Beach, and South Florida.
All you need is your sense of adventure, we take care of absolutely everything else.
Your First Jump
What To Expect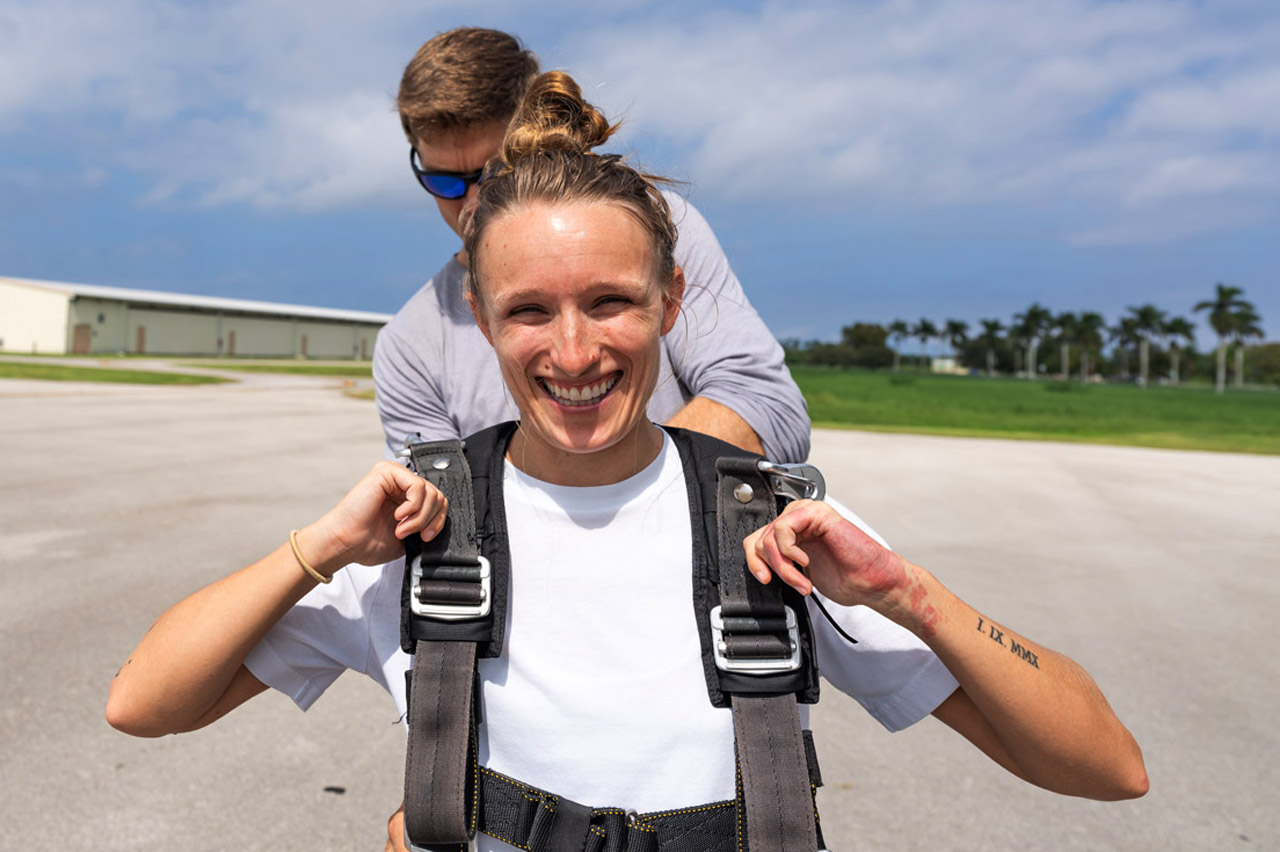 Arrive at Skydive Palm Beach at the time noted in your confirmation email. At check in, we'll copy your ID, process your payment, and have you sign a waiver. With the necessary paperwork out of the way, the fun begins!
You'll meet your tandem instructor, get kitted out in your skydiving harness, and complete a brief training session. Then, it's time to board the plane for the most memorable flight of your life!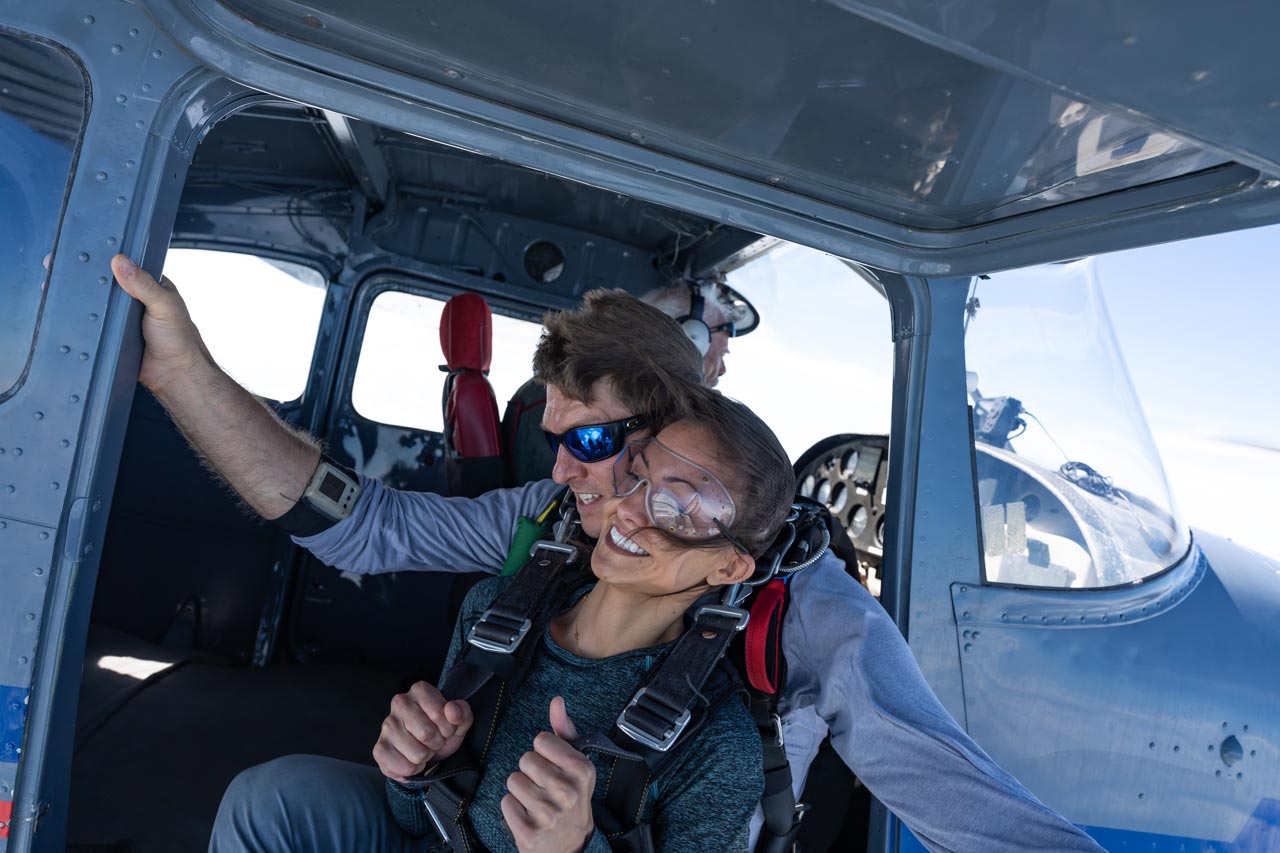 This is it: go time! By now, your heart will be pounding; your adrenaline soaring! Look out the window at sparkling Lake Okeechobee and the undulating fields of sugarcane and sweet corn. Take some deep, calming breaths. You've got this.
The lake is famous for spectacular wildlife. As we ascend, look for fish jumping, alligators sunbathing, and manatees bobbing along. If you live here, you might even see your house!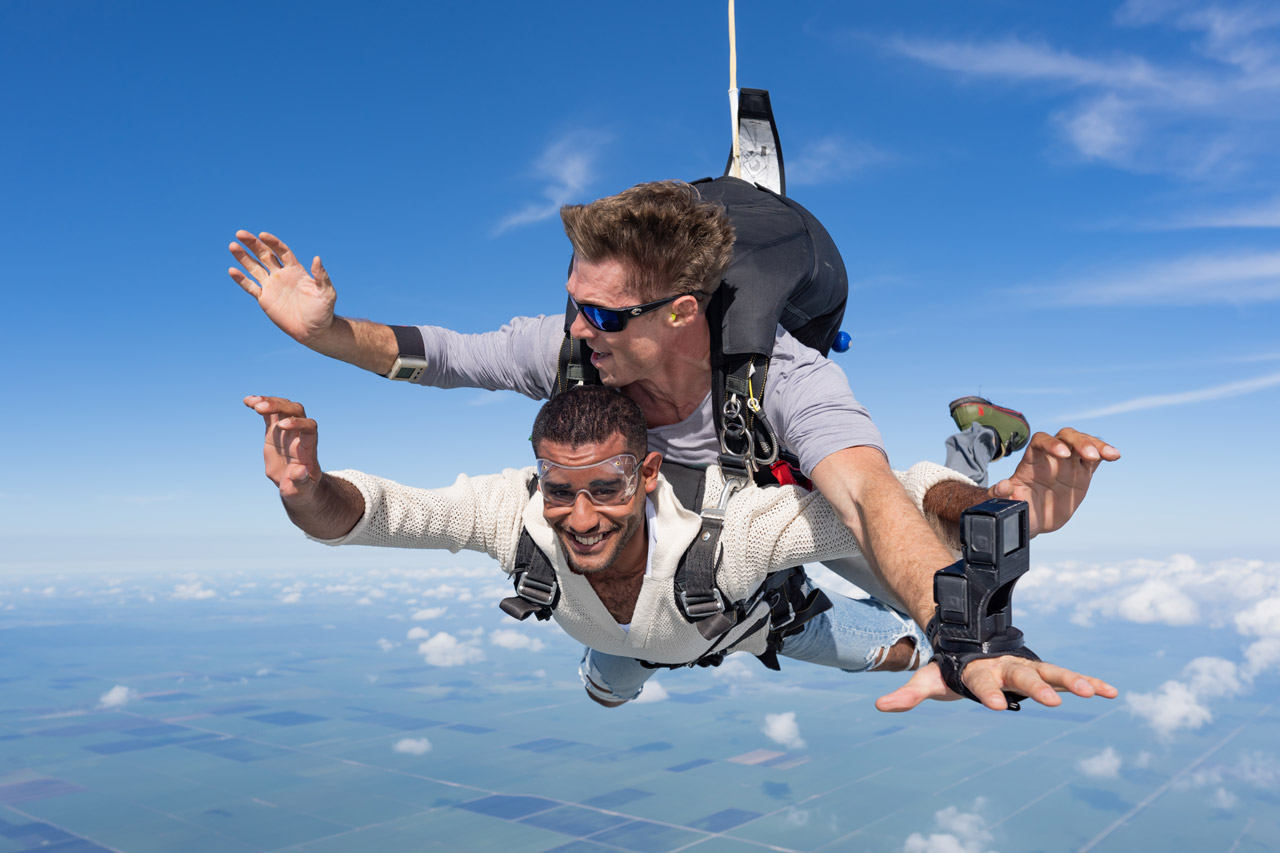 Once the plane reaches altitude, the pilot will give the green light and you and your instructor will prepare for departure (into the sky!). You'll shimmy to the door, step out, and – on your instructor's word – LEAP into the Florida sunshine.
You will immediately enter into freefall and, for the next 40 seconds, experience the pure freedom of flight. You won't feel like you're falling; more like you're flying or floating!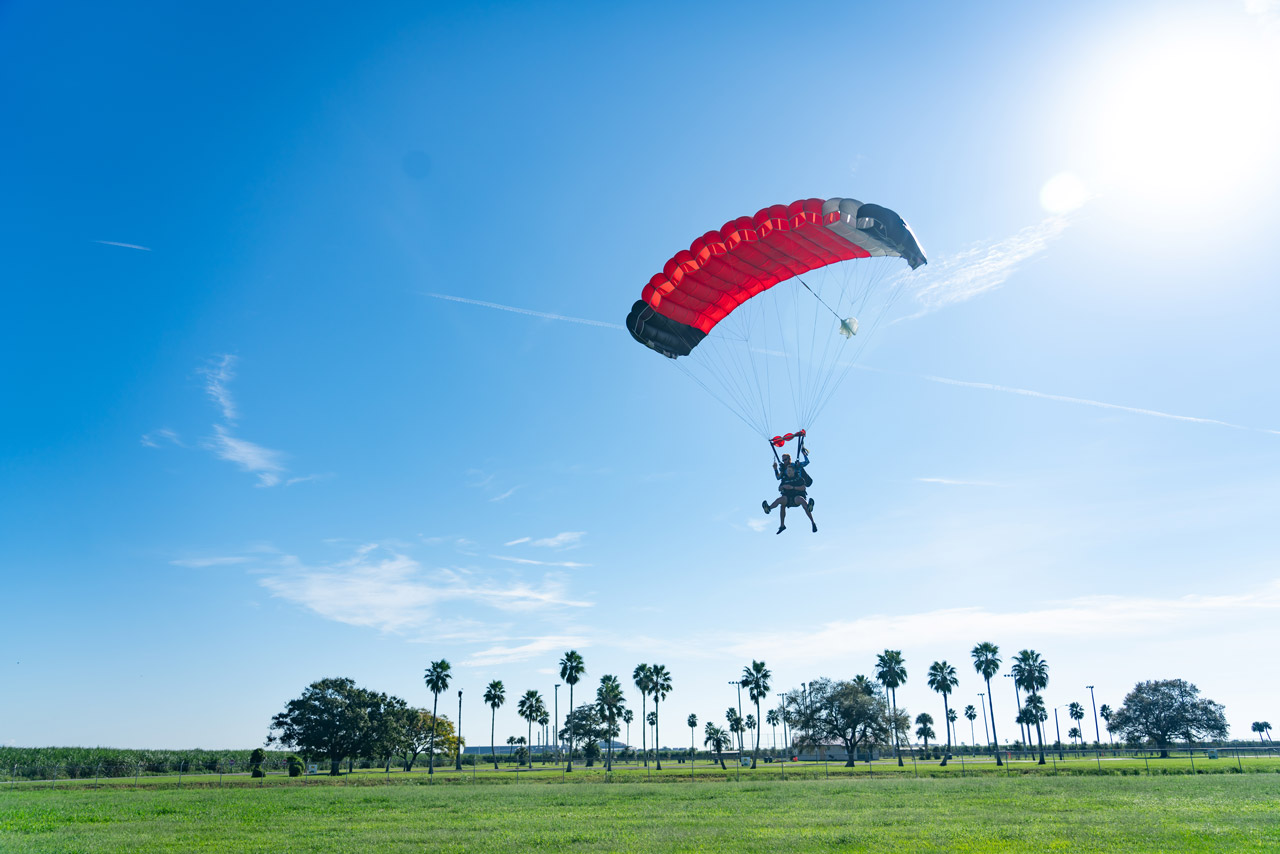 At around 5,000 feet, your instructor will deploy the parachute and your 120 mph descent will slow to about 15 mph. In contrast to the noise of the wind, the canopy ride is quiet; peaceful. You'll be able to talk with your instructor as you sail around the sky.
Soak in the view as you float back to the dropzone. You'll see the Pahokee Marina and State Park, the Lake Okeechobee Scenic Trail (the "LOST"), The Glades, and Lion Country Safari.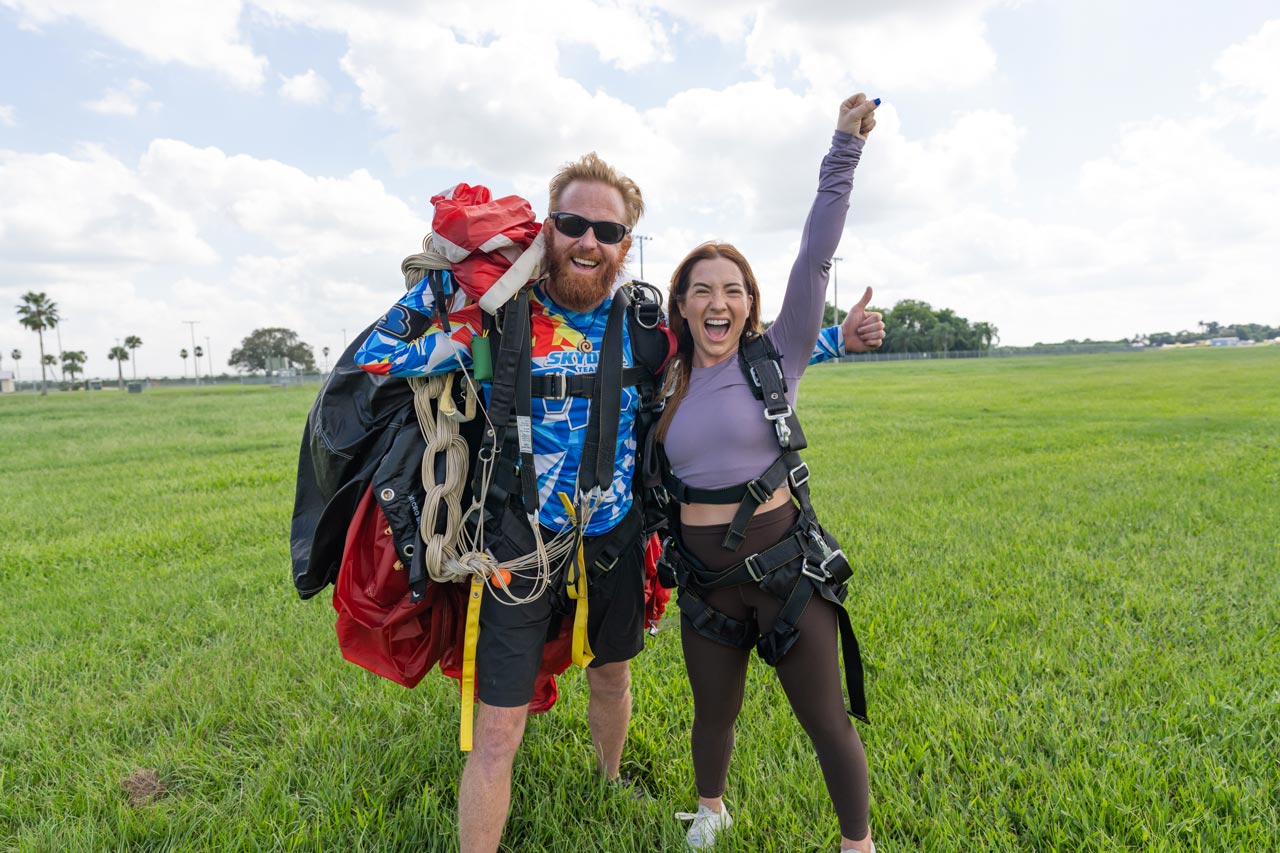 The Landing
As you approach the DZ, you'll see the smiling faces of your friends and family ready to greet you. Your instructor will remind you to lift your legs for landing, and then you'll gently touch down together. Once you're unfastened, you can jump up and celebrate!!
The magnitude of your achievement will start to sink in: YOU just flew! You'll search for words as you share your life-changing experience and you might even vow to go again!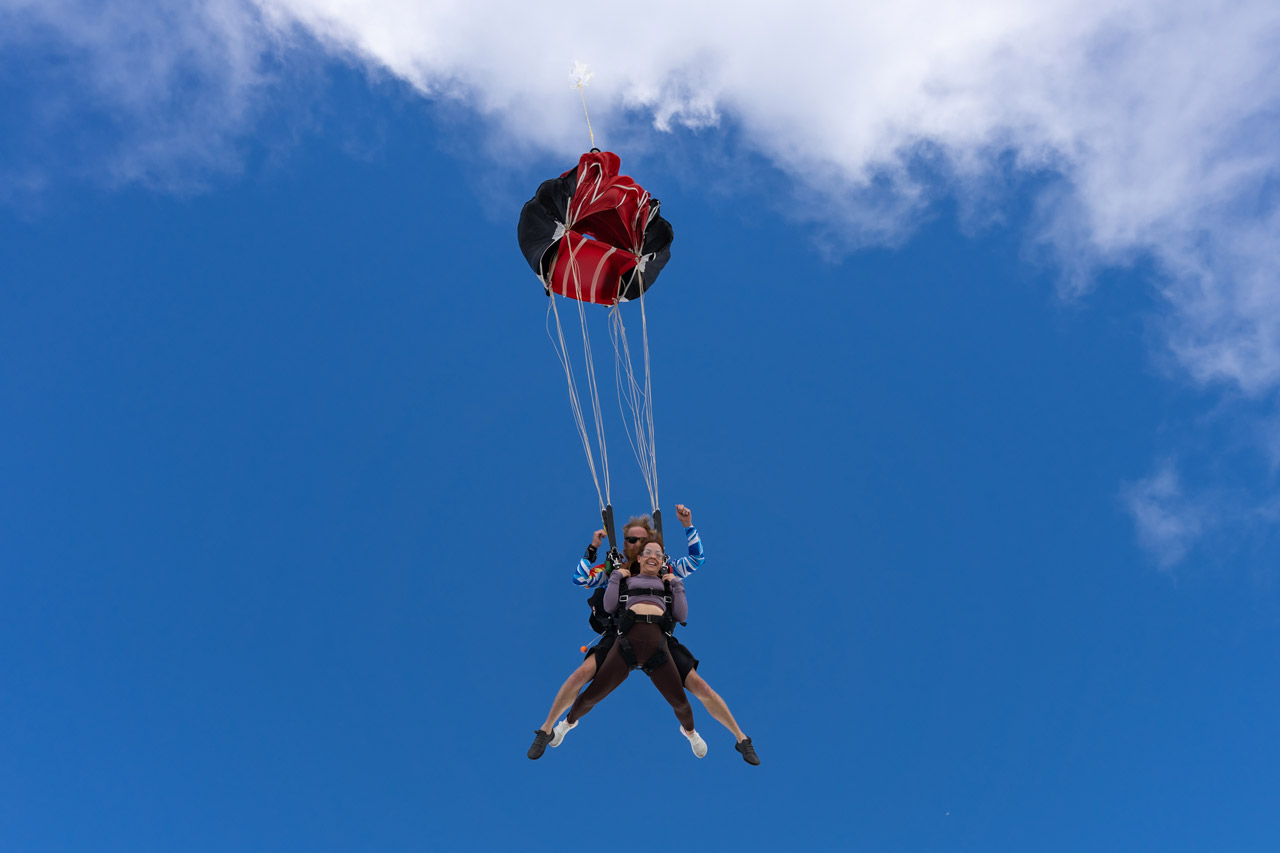 Next, we'll accompany you and your support crew back into the shade. Within minutes, you'll be able to watch yourself accomplishing the extraordinary! We can even put it on the big screen for you to bask in the glory of your feat.
If you didn't purchase your media package beforehand, now's your chance! You only skydive for the first time once – relive your jump time and again and, of course, post it on social media.
What Are You Waiting For?
Prepare For Liftoff!
Tips For A Great Tandem
You must be at least 18 years old to skydive.

Don't forget to bring your valid, government-issued photo ID.

You must weigh less than 240 lbs to make a tandem skydive.

The weight restriction is enforced for safety and comfort reasons.

Bring your best self to the dropzone.

Get a good night's sleep; eat as normal, avoiding heavy food; stay hydrated.

Dress comfortably, choosing clothes that give you full range of motion.

Close-fitting athletic clothing and closed-toed, lace-up shoes are ideal.

Invite others to make a tandem skydive too!

The only thing more awesome than skydiving is skydiving with friends!

Arrive at the time specified in your confirmation email.

It's free to reschedule or cancel your jump; no-shows forfeit their $50 deposit.

Bring your preferred payment method to the DZ.

All skydives are paid for on arrival. Pay in cash and save!