Our Story
About Skydive Palm Beach
Flying High Under New Ownership
Skydive Palm Beach has been introducing the joy of human flight to first time skydivers since 2009. And it's no wonder – Palm Beach enjoys year-round sunshine and the dropzone has an impeccable safety record. But we haven't always had a big hangar, an air-conditioned lounge, and the benefit of an on-site restaurant. The first iteration of Skydive Palm Beach was rudimentary and rustic.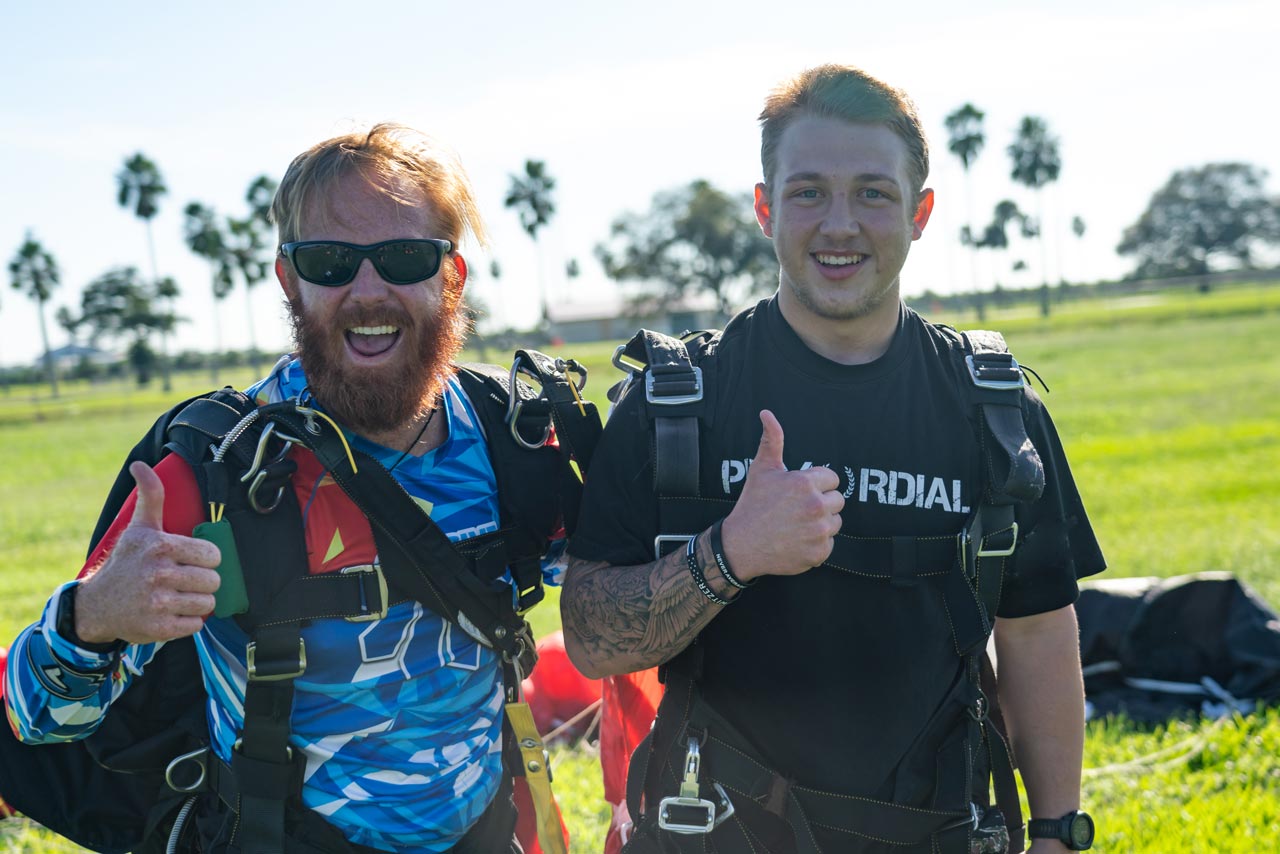 Humble Beginnings
Our History
Skydive Palm Beach was originally located about 30 miles east on a tree farm just outside of Wellington. Tucked away near the Loxahatchee Wildlife Refuge, the land was initially used for recreational activities like fishing, hunting, and frogging. There was even an 1800 foot path as a runway for little taildragger aircraft. Skydive Palm Beach used a (very) short gravel dirt strip as a runway; relied on solar power to provide electricity to the trailer we operated from; and our water was sourced straight from the Everglades.
A few years into operations, the family who had owned the property for generations decided to sell. Fortunately for us, the hangar we now occupy – which came with access to a 4,000 foot paved runway – just so happened to be empty and available. As the saying goes, the rest is history!
After nearly a decade at the "new" location at the Palm Beach County Glades Airport, the dropzone owner decided to hang up his rig and sell the business. It didn't take long to find the perfect buyer: a trusted friend, accomplished skydiver, and fellow dropzone owner.
Driven By Passion & Values
New Team, New Energy
Skydive Palm Beach and Skydive Key West are now sister skydiving centers! Both boast fantastic views, safety standards of the highest caliber, stellar customer service, and unparalleled tandem skydiving experiences. Our culture is built on our shared commitment to:
Treat each other and our guests with dignity and respect.

Happy employees delight in doing a great job. 

Consistently deliver the very best possible experience.

Things can always be better; it's what gets us out of bed each day.

Be mindful of the details; every moment counts.

Customer care begins on arrival and ends only after departure.

Lead with empathy and a spirit of empowerment.

We believe in the Golden Rule. Being kind, friendly and welcoming is important.

Value the time, trust and patronage of our guests.

Free rescheduling and cancellations, no hidden fees, no waiting.

Never be complacent.